September 11-15, 2015
Saint-Paul (Québec)
Canada

Site créer par Michel Roy, © juin 2015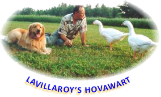 MONDAY AND TUESDAY, SEPTEMBER 14 AND 15
Tracking and Obedience Training
Registration will be at 8:30
Training will start at 9:00
Our two-day training session will focus on Tracking and Obedience. Manuela Dossinger will provide introductory theory about these two skills. Moreover, she believes in working by doing. Her focus will be on explaining methods as they relate to situations we encounter while we work. Tracking will come first, followed by Obedience training.
Her main goals are to help you learn how to interpret your dog, improve your attention and relationship with your hovawart, and understand what your hovawart needs breed-specifically.
Ms. Dossinger aims to encourage every participant to continue tracking or obedience.
Due to their strong noses, hovawarts have a high potential to excel in Tracking. Barbara Harding and her dog, Beau, won a national honorable mention award because Beau saved a life with his air-scent ability.
You do not need to have particular training as a prerequisite for either the Tracking or Obedience training.
Ms. Dossinger is comfortable and able to work with the most novice and most experienced teams! In 34 years, she has plenty of experience working with the youngest and the oldest hovawarts (and owners!).
Our Trainer Manuela Dossinger
She will be our Tacking and Obedience Trainer.
She is a highly accomplished hovawart trainer, breeder, and RZV Performance judge for Protection Training [IPO (Internationale Prufungs--]Ordnung)].
Her kennel, Hovawarte aus Vinkona, has provided 87 hovawarts.
Ms. Dossinger speaks German, English, and French.