Hovawart Club of North America America

September 11-15, 2015
Saint-Paul (Québec)
Canada

Site créer par Michel Roy, © juin 2015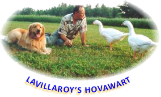 Conformation show
Saturday Sept. 12
Inscription / Sign in starts at 8:00
Début / Show starts at 9:00
The conformation show is open to all hovawarts with HCNA, CKC, FCI, AKC and UKC registration papers.
Hovawarts without papers are welcome to participate in the spay/neuter class.
Please refer to the attached registration form for available classes.
The conformation show will continue until we are finished with all the classes, males first, females second. Rain or shine.
Les évaluations de conformation sont offertes à tous les Hovawarts qui sont enregistrés avec HCNA, CKC, FCI, AKC et UKC (stérélisés ou non).
Les Hovawarts qui n'ont pas de papiers d'enregistrement sont invités à participer aux évaluations dans les classes de chiens stérélisés.
SVP voir le formulaire d'enregistrement pour les classes disponibles.
Les évaluations se font tant qu'il y a des chiens à évaluer. Les mâles en premier et les femelles en second. Le "show" aura lieu même s'il pleut.
Judge: Mr Michael Kunze
Conformation and Temperament Test Specialty Judge.
He will honor us with his expertise as the Senior Judge of
Rassezuchtverein für Hovawarthunde e.V. (RZV)
in Germany.
His expertise involves developing the hovawart
temperament test for RZV.
As a breeder with his own kennel, Hovawarte vom Julienhof, Mr. Kunze has been actively involved in RZV since 1987, and he has extensive experience in judging internationally.