Hovawart Club of North America America

September 11-15, 2015
Saint-Paul (Québec)
Canada

Site créer par Michel Roy, © juin 2015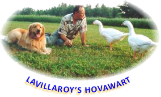 CONTACTS
If you have questions about this event or would like to contact the hosts for driving directions or information about the St-Paul, Quebec area: Helene Dandurand 514-990-5429 hdandurand@videotron.ca
Elisabeth Arevalo 401-580-8631 breeding@hovawartclub.org
Matthew Douthat 518-569-4051 matthewdouthat@gmail.com
Barbara Mennite 845-446-5901 info@hovawartclub.org
REGISTER EARLY
Please register as soon as possible to help your Committee plan for materials and supplies. You will also help the Show begin on time by reducing the time to complete and organize paper work on site. You can either register online at the club's website:
and pay through PayPal (no PayPal account needed), or, you can download the registration form and mail it with your check or money order in US dollars. Issue your check to HCNA. The mailing address is:
HCNA, P. O. Box 455, Fort Montgomery, NY 10922 USA
WHAT TO BRING
Proof of current vaccinations or safe titers, including rabies

Dog's pedigree or registration papers

6-foot leash

Collar (no choke, pinch, or shock collars, harnesses, or halties are permitted in the ring)

Your dog's favorite

tug toy

for the Temperament Testing (TT)
WHAT TO BRING FOR TRAINING
30-foot lead for tracking

More delicious treats

Your dog's favorite toys
WHAT ELSE TO KNOW • Please bring bags to pick up after your dog and place the bag in a garbage bin. • Dogs must be on their leashes and under control at all times! • Please be aware that not all dogs get along with others! Please make sure to keep your dog on leash and under control when you approach another dog..